Keeping Up With The Kardashians star Kim Kardashian is facing backlash on the internet. The reality star wore a grey crop top and a skirt along with what looks like traditional Indian jewellery – maang tika and gold bangles.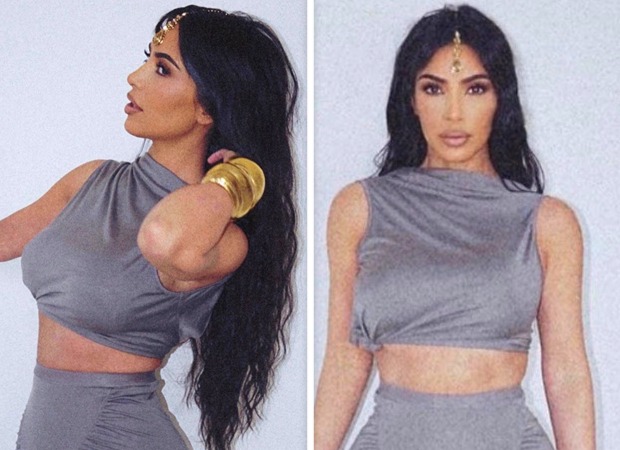 This ain't the first time she wore traditional Indian jewellery. She had earlier faced internet backlash after she wore accessories to the church.
View this post on Instagram

????
Netizens took to social media as they accused her of cultural appropriation stating that wearing Indian jewellery is not an aesthetic.
I am just gonna leave this here for people who are dismissing the cultural appropriation claims… pic.twitter.com/fOTRPoEZlE

— Cornelia street⁷ llBangswift (@Worthwhilefigh1) April 23, 2020
Culture vulture appropriating everything she sees, how very cute of you ????

— ????????⁷ — ???????????????????????? ???????????????????? ???? (@ot7sIut) April 23, 2020
You are not the Mastani you think you are. Its cringing stop it. pic.twitter.com/AsyFe3r2Vb

— ????????ShyGuyMonny⁷ ✨ (@JoonieMonniPooh) April 23, 2020
now that you've stolen from south asian culture to fit your aesthetics, why don't you donate to these countries if you appreciate their culture so much, Kim? ????????????

— v / nsfr (@sourpinkcandy) April 23, 2020
I've never seen black fishing and appropriating an entire different culture in a same pic by same person…
A new low.
Seriously how much more attention do you want?

— Cornelia street⁷ llBangswift (@Worthwhilefigh1) April 23, 2020
if anyone is defending this bc she's half armenian- (her dad was a third gen wealthy armenian) armenians don't wear bindhis/bindhanis. not all brown people are allowed to wear the same things. we're not all the same. bindhis are sacred to hinduism/south asian cultures.

— ✨ mama sanddune ✨ (@MeanutButter) April 23, 2020
What kim thought she was serving. Anyway, Stan Kareena Kapoor !

pic.twitter.com/aR00x2vtzV

— Arya⁷ is JOONIE'S BONSAI ☘️ (@Arya_fanfics) April 23, 2020
the fact that you live off of appropriating other cultures without any shame is mind boggling to me

— w (@leswiftquito) April 23, 2020
white girl find another culture to steal frompic.twitter.com/d6ug3vDKwG

— mani ☾ (@manisnostalgia) April 23, 2020
For anyone saying this is an Armenian accessory. As an Armenian, it is NOT, it's not even close to anything Armenian.

— Lilith ⁷ |BANGTAN ONLY EVENT| (@CelladoraLilith) April 23, 2020
ALSO READ: Kim Kardashian shares steamy bikini pictures clicked by Kanye West