Ayushmann Khurrana and Amitabh Bachchan starrer Gulabo Sitabo has finally released on an OTT platform and the duo is being appreciated a lot. Ayushmann Khurrana considered it an honour to be working with the legendary actor Amitabh Bachchan and has not stopped fan-boying ever since the film was announced. Like a lot of actors, Amitabh Bachchan was an inspiration for Ayushmann Khurrana to become an actor and in his latest Instagram post, he has written a heartfelt note for him. Recalling the time when he went to watch Hum, Ayushmann summed up his journey from there till date in the best way possible.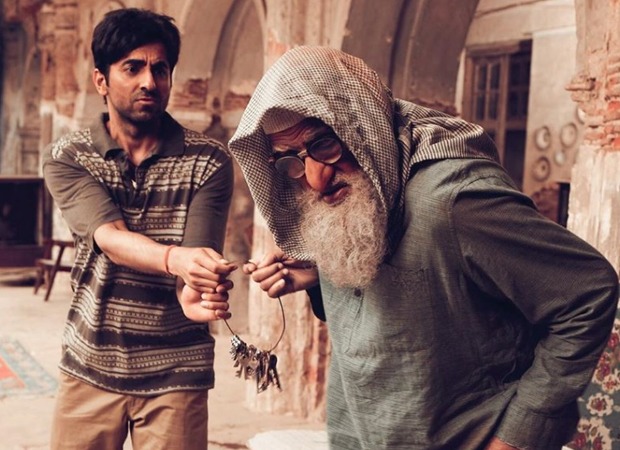 Posting a still from the film, Ayushmann's caption read, "जब भी हमारे देश में कोई नौजवान अभिनय के क्षेत्र में कदम रखना चाहता है तो उसका ध्येय होता है अमिताभ बच्चन। मेरी आख़िरी फ़िल्म में एक dialogue था कि बच्चन बनते नहीं है, बच्चन तो बस होते हैं। जब मैंने बचपन में चंडीगढ़ के नीलम सिनमा में "हम" देखी थी और बढ़े से बच्चन को बढ़े से पर्दे पर देखा था तो शरीर में ऐसी ऊर्जा उत्पन्न हुई जिसने मुझे अभिनेता बनने पर मजबूर कर दिया। मेरा पहला tv शूट मुकेश मिल्ज़ में हुआ था और यही वो जगह थी जहां जुम्मा चुम्मा दे दे शूट हुआ था। उस दिन मुझे I have arrived वाली feeling आ गयी थी। अगर तब यह हाल था तो आज आप सोच सकते होंगे मैं किस अनुभूति से गुज़र रहा होऊँगा। गुलाबो सिताबो में मेरे सामने बतौर 'सह' कलाकार यह हस्ती खड़ी थी और किरदारों की प्रवृति ऐसी थी की हमें एक दूसरे को बहुत 'सहना' पड़ा। वैसे असल में मेरी क्या मजाल की मैं उनके सामने कुछ बोल पाऊँ। इस विसमयकारी अनुभव के लिए मैं शूजित दा का धन्यवाद करना चाहूँगा की उन्होंने मुझे अमिताभ बच्चन जैसे महानायक के साथ एक फ़्रेम में दिखाया है। आप मेरे गुरू हैं, आपका हाथ थाम कर यहाँ तक पहुँचा हूँ। "सौ जन्म क़ुर्बान यह जन्म पाने के लिए, ज़िंदगी ने दिए मौक़े हज़ार हुनर दिखाने के लिए।" -आयुष्मान ???????? Catch #GiboSiboOnPrime today!"
Take a look at it.
View this post on Instagram
Clearly, no one puts feelings to words better than Ayushmann Khurrana!
Also Read: Ranveer Singh crashes Ayushmann Khurrana's live stream, asks about his experience of working with Amitabh Bachchan