With the world trying the combat the novel COVID-19, showbiz, and the music industry have taken a huge hit. Tours have been postponed indefinitely and musicians from all over are ensuring to participate in digital concerts in order to heal the world during this difficult time. The Aces, American alternative pop band from Provo, Utah, agrees to the fact that music is a way to stay connected to their fans. "It's been so fun to connect to our fans over social media, maybe more than we would have if the circumstances were different. It's funny because we feel just as comforted by performing for them as they might feel from listening to us. We need them just as much as they might need us," the group says who recently performed for Vh1India's Quaruntunes.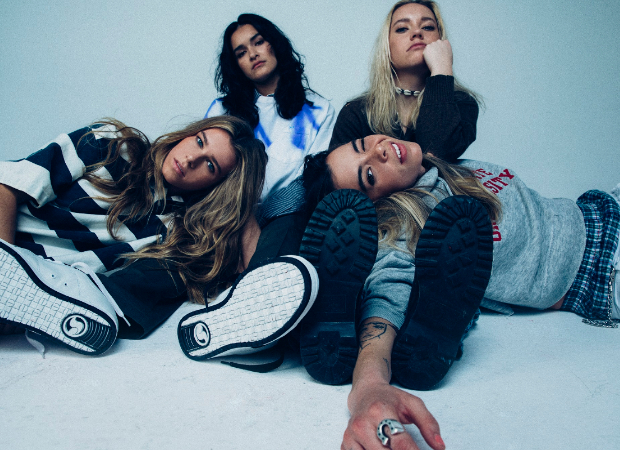 The Aces comprises of guitarist Katie Henderson, bassist McKenna Petty, and sisters, drummer Alisa Ramirez and lead vocalist and guitarist Cristal Ramirez. The indie-pop quartet recently spoke to Bollywood Hungama about their growth as artists and how they are coping during this global health crisis.
Their first single as the Aces, 'Stuck', was released in 2016, eventually reaching #38 on the Billboard Alternative Songs chart in late 2017. The band's second single, 'Physical', was released in 2017 in advance of their debut EP, 'I Don't Like Being Honest'. Their debut album 'When My Heart Felt Volcanic' released on April 6, 2018. They recently released the video of their latest track 'Daydream'. There has been a lot of growth in their sound since their debut and the group agrees too. "We have grown up a lot since the time we made our first record. The difference between being 17 and being 23 is huge, ya know? We are just more certain of ourselves and more certain of how we want to convey our emotions. But that's just aging really," says the group.
Interestingly, they opted to kick-start #AcesDayDream challenge on Tik Tok. In the past few years, the platform has worked wonders for the artists as many discover music through it. "We LOVE tik tok lol," The Aces add. "We think it's such an amazing place to discover new music. We saw a fan of ours make the daydream dance and we loved it, so we made it a challenge!"
The Aces joined Australian band 5 Seconds of Summer for their Meet You There Tour, in support of their latest album release, 'Youngblood' (2018). Following this tour, they embarked on their own North American headlining tour in support of 'When My Heart Felt Volcanic', the Waiting For You Tour. When asked about their experience touring with the four of them (lead vocalist and rhythm guitarist Luke Hemmings, lead guitarist Michael Clifford, bassist Calum Hood, and drummer Ashton Irwin), the group says, "It was amazing! We love those boys a lot, and that tour was an absolute blast. The new record ('Calm') is amazing too!"
For young musicians, touring has always been a very important part of their lives. The coronavirus outbreak has put a pause on the activities. In times like these, it is difficult to keep yourself motivated. But, like everybody, they are trying to focus on what they can control. "It's tough, not every day is the same. Sometimes you wake up feeling like you can take the world on, sometimes you wanna crawl under a rock," says the group. "For us, it's really about just allowing yourself to feel what you're feeling and finding things to do that comfort you and keep you motivated. Focus on what you can control!"
View this post on Instagram

DAYDREAM BTS
In the last couple of years, there has been growth in embracing different cultures and Asian and Latin music has been taking over the charts. "It's something that we feel so excited and inspired by. Half of us are latina, so to see everyone loving and accepting other cultures is really amazing. We wanna be a part of it," says the group about the growth in the music. When asked if they listen to any Korean artist, they say, "We love BlackPink."
In a time like this, The Aces would like to give comfort to their fans. "We just wanna say that we love you! We are here with you and are all in this together. We are a family now and always, and we need each other more than ever. We hope you can bring you some kind of comfort in all of this, you guys always do that for us."
Speaking of fans, they were surprised to know India also had a fan following for their band and says, "That is incredible! We can't wait to visit!"
Is there anything that they all are looking forward to professionally or personally once things get back to normal? "See more of the fans! Hugging them, playing shows for them," The Aces sign off.