A week ago, The Tonight Show host Jimmy Fallon announced that South Korean group BTS will return on his show ahead of the release of their highly anticipated album, 'Map Of The Soul: 7'. On February 13, it was revealed that the septet will appear on February 24 episode that was already filmed last week itself.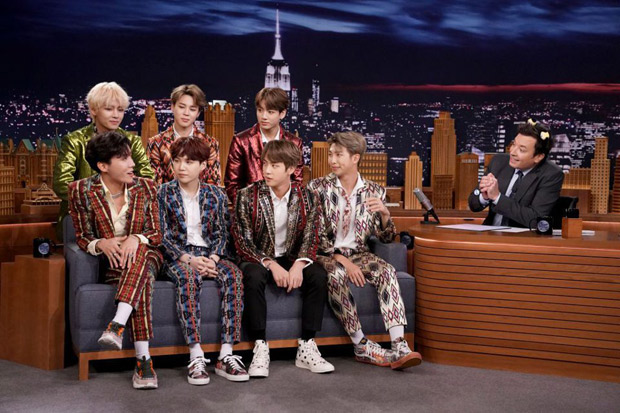 Last week on Thursday night's episode, Jimmy said, "I'll be interviewing them, and I want your help. If you're a BTS fan and there's a question you've always wanted to ask the band, we're going to give you that chance." He even asked fans to send in questions with the hashtag #FallonAsksBTS that trended worldwide on Twitter.
On Thursday, Rolling Stone made some revelations about the upcoming episode that will be one of the biggest ones for the group. The episode will air after the official release of 'Map Of The Soul: 7'. They will also perform brand new song from the episode which might be the title track of the fourth LP. They also visited Katz's Delicatessen in New York.
Fallon told Rolling Stone, "We wanted to do something special for BTS and, at the same time, celebrate New York City.BTS really knocked it out of the park. You're not going to believe how big and fun their performance is — they took over Grand Central Terminal."
Showrunner Gavin Purcell also spoke to RS and further revealed, "In terms of the production side, this [episode] was a pretty heavy lift. I can't tell you how many people went into the making of this — it was the entire staff rallying together to make this really cool show. And on the BTS side, it was amazing to see how they rallied and how hard they worked. That's something their fans know, but not only are they incredibly talented, they're also so hardworking and humble."
BTS first appeared on The Tonight Show Starring Jimmy Fallon in September 2018 and performed two of their songs – 'Idol' and 'I'm Fine' from 'Love Yourself: Answer' album. Jimmy was seen wearing BT21 merch – Chimmy and had a wonderful interaction with the members – RM, Jin, Suga, J-Hope, Jimin, V, and Jungkook. They even did the Fortnite Dance Challenge.
Meanwhile, BTS is gearing for the release of their fourth LP, 'Map Of The Soul: 7' which is due for February 21, 2020.
Also Read: BTS drops fourth concept photos and they are definition of innocence and youth