It was only a day ago it was announced that BTS, the world's most popular band, will be participating in the NPR Music's Tiny Desk concert. Their concerts bring performances of celebrated artists from across the country and the world. The intimate setting of these concerts is loved by the audience. Amid the current scenario, The Tiny Desk was held virtually and was introduced in just a different space as BTS performed all the way from Seoul.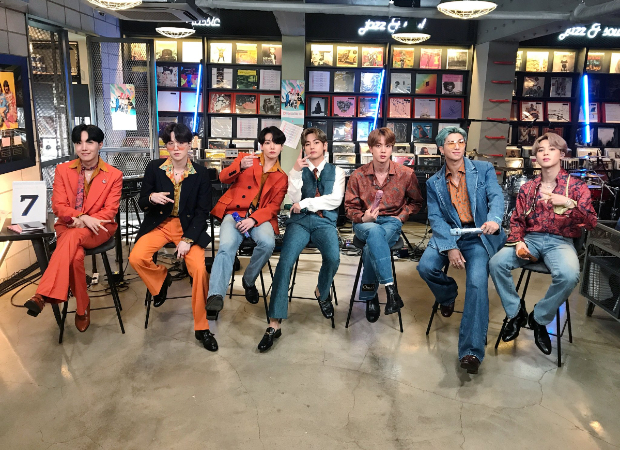 BTS performed three songs during their 14:06 minutes set with their live band – The Ghost Band [Docskim (piano), Khansic (drums), Chung Soowan (guitar), Kim Kiwook (bass)], who accompanied them during their early tours. The songs included their latest hit 'Dynamite', 'Save Me' from 'The Most Beautiful Moment In Life: Young Forever' (2016), and 'Spring Day' from 'You Never Walk Alone' (2017).
While they are basking in the glory of 'Dynamite' that got them No. 1 on Billboard Hot 100 for two consecutive weeks & made them first Korean act to achieve this milestone, bringing back the beautiful era of their earlier works like 'Save Me' and 'Spring Day' was a perfect way to introduce themselves to a newer audience who might be intrigued by their live performance. "It's been the roughest summer ever but we know that spring will come. So, let's go together," said RM. "I believe in a difficult time like now, we all are wishing for the Spring Day to come," added Jungkook.
Each member is known for their distinct style and voice. The ad-libs along with their impeccable live vocals blending with the band surely added more nuance to their performance. The metaphor of 'Spring Day' – the longing and separation from loved ones but moving towards each other to find solace and comfort in each other is what they sent out the message today as well.
Known for their very strong stage presence, the members opted for stripped-down versions of the songs showcasing their perfect harmonization, strong live vocals, and incredible rap skills. They went back and forth between harmonizing while making it clear that 'BTS always sings LIVE no matter what stage they are at or what setting it is'.
Dressed in vibrant retro-style suits, printed shirts, vests, and bell-bottoms, the septet – RM, Jin, Suga, J-Hope, Jimin, V, and Jungkook brought a lot of sharp styles and suave to their intimate concert. During the performance, they emphasized on the fact that they miss the ARMY and performing on stage. They hope the time will come when they can all enjoy with the fans.
[#오늘의방탄] #BTS in NPR Tiny Desk Concert????
모두 즐겁게 관람하셨나요?! 그렇다면 소리 질러어어어! ???????????? #방탄소년단 #BTS_Dynamite #인터내셔널팝케이센세이션썬샤인레인보우트레디셔널트랜스퍼USB허브쉬림프BTS pic.twitter.com/pOYiPNhQGU

— BTS_official (@bts_bighit) September 21, 2020
BTS is set to drop the choreography version of 'Dynamite' but with a twist. According to the official press release, BTS will showcase "a never-before-seen choreography version" which will premiere on Fortnite's Party Royale Mode. It is "the game's no-combat social space where players can get together with friends to catch concerts, watch movies, or just chill. Following the premiere, players can enjoy 'Dynamite' (Tropical Remix) listening party with karaoke graphics to sing and dance along. Additionally, starting September 23 at 8:00 PM EDT, players can purchase a pack with two emotes choreographed after BTS.
ALSO READ: BTS member V meets PSY and we are obsessed with this memorable reunion